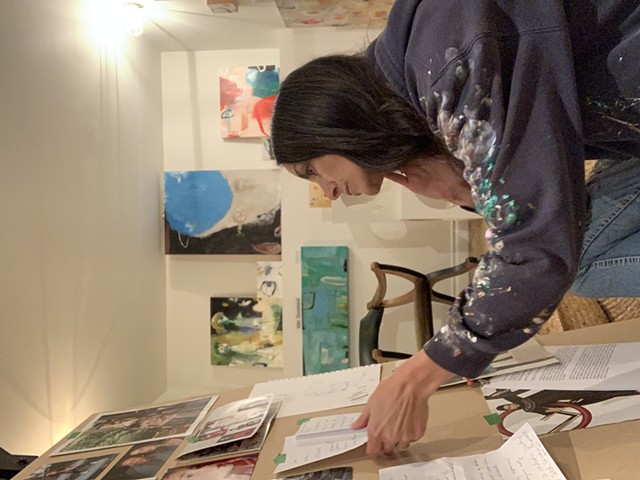 My Mother always said my head was in the clouds. Growing up I felt this was a flaw. Now I realize I was just painting with my thoughts. For me creating is a way to add the delight, the silliness, the escape into our everyday lives; just as much as it is a tool to make sense of the world.
Distortion and excavation are at the core of my practice. I work mainly in abstraction and a loose form of portraiture as a path to processing the complexities of being human. I favour a flattened, often partially obscured image over a realistic one simply because I question our reality. I am interested in how the imagination assembles impression, memory and shape into visual form. Themes of human connection, seen and unseen, dynamics of viewership, identity and literal and psychological space are what drive my creative will.
Essentially I feel off-Center, mildly deranged, unreasonably happy and often misunderstood. I think I paint what I am.






~ ~ ~ ~ ~ ~ ~ ~ ~ ~ ~ ~ ~ ~ ~ ~ ~ ~ ~ ~ ~ ~ ~ ~ ~ ~ ~ ~ ~ ~ ~ ~
"... Vikki's work is coming from a place of singularity where it is highly personal and visually engaging... I would be remiss if I didn't draw attention to the fact that she is honing in on a personal sense of colour that supports the imagery she has developed... this work takes calculated risks and in my estimation it has delivered."


- Artist Robert Bigelow
"Fictitious Form" publication
~ ~ ~ ~ ~ ~ ~ ~ ~ ~ ~ ~ ~ ~ ~ ~ ~ ~ ~ ~ ~ ~ ~ ~ ~ ~ ~ ~ ~ ~ ~ ~