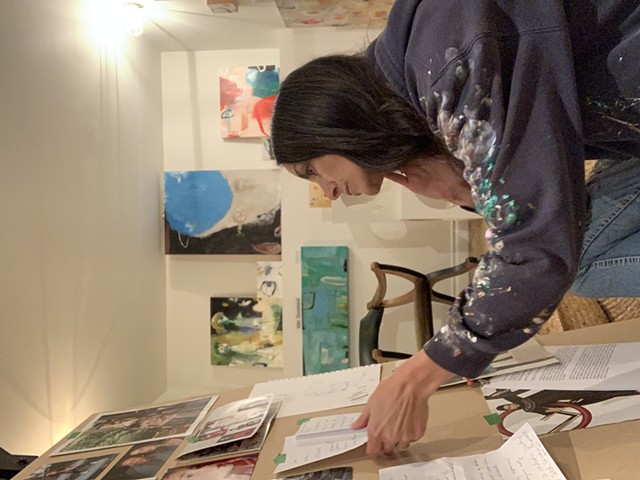 Growing up my head was in the clouds. I didn't understand anything.
I still don't. So I paint.
My paintings are stories. I use escapism, distortion and absurdity to see life.
There are many themes in my work; human connection, identity, the seen and the unseen, dynamics of viewership and literal and psychological space are a few.
The world feels like a heavy place. I try to work with weightlessness in my paintings - to remove the rock from our chests.
Essentially I feel off-Center, mildly deranged, unreasonably happy and often misunderstood. I think I paint what I am.










~ ~ ~ ~ ~ ~ ~ ~ ~ ~ ~ ~ ~ ~ ~ ~ ~ ~ ~ ~ ~ ~ ~ ~ ~ ~ ~ ~ ~ ~ ~ ~
"... Vikki's work is coming from a place of singularity where it is highly personal and visually engaging... I would be remiss if I didn't draw attention to the fact that she is honing in on a personal sense of colour that supports the imagery she has developed... this work takes calculated risks and in my estimation it has delivered."


- Artist Robert Bigelow
"Fictitious Form" publication
~ ~ ~ ~ ~ ~ ~ ~ ~ ~ ~ ~ ~ ~ ~ ~ ~ ~ ~ ~ ~ ~ ~ ~ ~ ~ ~ ~ ~ ~ ~ ~