CV | BIO
- CV -
REPRESENTATION
ARTEFUNKTIONAL GALLERY, Vernon BC
GALLERY MERRICK, Victoria BC


SOLO EXHIBITIONS
2019 Fictitious Form
ARTEFunktional Gallery, Kelowna BC
2017 Backwards and Forwards
Summerland Public Art Gallery, Summerland BC
2016 Wonderland Redux
Alternator Gallery, Kelowna BC
2015 Dear Diary
Armstrong Spallumcheen Public Art Gallery, Armstrong BC
2012 Conversations with Myself
Alternator Gallery, Kelowna BC
GROUP EXHIBITIONS
2022 If I were you Exhibition: 3 artists
Lake Country Art Gallery, BC
2021 14th Annual Figurative
Hilliard Gallery, Kansas City, MO
2018 Tall Tales
Tumbleweed Gallery, Penticton, BC
2017 Heads Up
Tumbleweed Gallery, Penticton, BC
2016 Journeying
ARTE funktional, Kelowna, BC
2014 A Step Forward - Juried Group Exhibition
Lake Country Art Gallery, Lake Country BC
Artist, Artisan, Architecture & Design
ARTE funktional, Kelowna BC
Abstract Break
Ashpa Naira Gallery, Vernon BC
Under 100 - Juried Group Exhibition
Lake Country Art Gallery, Lake Country BC
2013 Small Objects
ARTE funktional, Kelowna BC
Annual Members Exhibition
Alternator Gallery, Kelowna BC
Under 800 - Juried Exhibition
Sopa Gallery, Kelowna BC
60 Anniversary, 60 Artists - Juried Exhibition
BC Arts Council, Kelowna BC
Pop Goes the Art
Ashpa Naira Gallery, Vernon BC
2012 Mapping - Members Exhibition
Kelowna Art Gallery, Kelowna BC
Art for Change - Juried Group Exhibition
Lake Country Art Gallery, Lake Country BC Vikki Drummond - 1
Colours of Spring
Ashpa Naira Gallery, Vernon BC


PUBLICATIONS
2020 Create Magazine - Sarah Mills - June 2
2019 Morning Star - Brieanna Charlebois - July 2
2016 ArtaFacts, Daily Courior - Anna Jacyszyn- September 20
2013 60 Artists 60 Spaces - Arts Council Central Okanagan
AWARDS AND WORKSHOPS
2022 Gallery Ring Crystal Award
2019 Opus Art Supplies, Kelowna, BC


EDUCATION
I have a Diploma in Business Administration. What followed was a career in Business. In 2012 I committed myself to pursing my interest in the arts. I am predominantly self-taught and seeking opportunities where I may gain technical knowledge.


COLLECTIONS
Private collections in Canada, United States, Australia & Saudi Arabia


DONATIONS
Hepatitis C Trust, Art on a Postcard Fundraiser by invitation, London UK
Project Literacy Fundraiser, Kelowna BC
Art on the Line 2015 Fundraiser, UBCO Visual Arts, Kelowna BC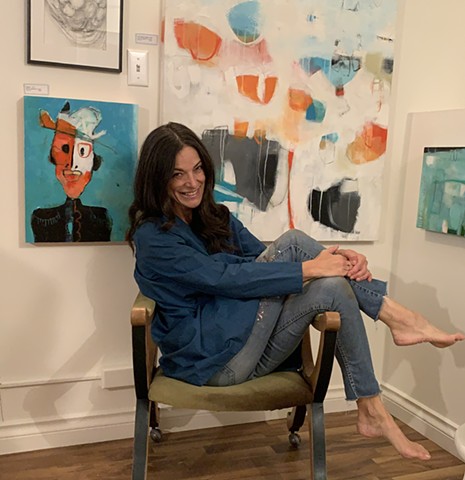 BIO
Vikki is an autodidact who left the BFA program at Okanagan College after one semester. She followed a boy into the Business Administration program and graduated with a Diploma in Marketing. She then spent 20+ years in Sales & Marketing, eventually meeting her husband and owning/operating a restaurant and bar. She left her position with a multi-national company to have a second child and found her way back to her love of art in 2012. Vikki has had her work selected for public display by the City of Victoria and has collaborated with Bones Brewery on a beer label.
She has a soft spot for strawberry lipgloss and wishes her legs were longer. She believes in faeries and loves gummy bears and those strawberry marshmallow candies when they are just slightly stale.
She has a studio gallery in historic FanTan Alley, downtown Victoria BC and is currently represented by Gallery Merrick in Victoria & ArteFunktional Gallery in Vernon BC.